Link Between Vitamin D Deficiency and Alzheimer's Disease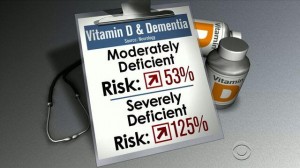 According to a recent study published in the journal Neurology, there is a clear link between Vitamin D deficiency and an increased risk for Alzheimer's Disease.  Older adults who are moderately deficient in Vitamin D has a 53% increased risk for developing Alzheimer's Disease, while adults who were severely deficient had a 125% increased risk for developing Alzheimer's Disease.  This was a large study following 1,658 patients for several years.  This confirms two recent studies out of Denmark and Australia that came up with the same conclusions as well.
There is a great deal of research on Vitamin D and its effects on this body, with this study adding to the body of literature.  Many adults are deficient in Vitamin D and this emphasizes the need for increased Vitamin D consumption either through food or supplementation.  If you are looking for a superior Vitamin D Supplement I recommend this one.
If you would like to know more, the original study can be found here and the summary article can be found here.
To Your Health!
Dr. Harvey