What 10 Cans of Soda a Day for a Month Will Do to You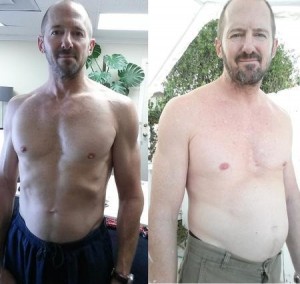 Those of you who have read this blog or have heard me speak in public know what I think about drinking soda.  I saw this article posted today and wanted to share its contents with you.  George Prior, a 50-year-old man, followed in the steps of Morgan Spurlock from the film Super Size Me, and drank 10 C
Cokes a day for a month.  He had heard that Jude Law had done the same for a role.  In doing his research, that the amount of sugar isn't far from the norm that most Americans eat on a daily basis.  So he consumed 10 cans of coke a day – an addition of 1,400 calories and 390 grams of sugar daily.
The result – he gained 23 pounds and almost doubled his percentage of body fat from 8 to 14%.  He states that he didn't change his diet much, so this gain can be attributed to the sodas
The original link to the story is here and a video he posted is below:
Bottom line – there are no health advantages to drinking soda.  As someone who used to drink 4-6  sodas a day when I was in college, this data is eye-opening and adds to the mountain of data showings that sodas are bad for you.  I cut out sodas from my diet a long time ago.  If you still drink sodas, I urge you to cut back, and increase your water consumption.  Your body will thank you for it.
To Your Health!
Dr. Harvey