Woman Drinks Only Soda for 16 Years, Suffers Heart Problems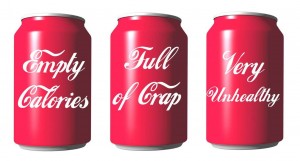 This is an interesting article that talks about a woman who has not drunk any water for the last 16 years, only drinking 2 liters of cola daily.  She developed heart problems and was brought to a hospital after she fainted.  It was discovered through blood work that her potassium levels were severely depleted.  This can in turn affect the electrical regulation of your heart.  After a week of being off soda, her potassium levels and electrical activity returned to normal.
This should be no surprise for those of you who have had me as a student in class, or who have heard me speak in public.  We all know that excess consumption of soda is not good for you, but now you have evidence that shows you why.  Soda also leads to weight gain which can lead to heart disease.
Bottom line – too much soda consumption can affect your health.  As with anything moderation is key.  My advice is to give up soda completely.
Here is a link to the actual article:  http://news.yahoo.com/woman-drinks-only-soda-16-years-suffers-heart-111020462.html
To Your Health!
Dr. Harvey