Whoso would be a man, must be a nonconformist – Ralph Waldo Emerson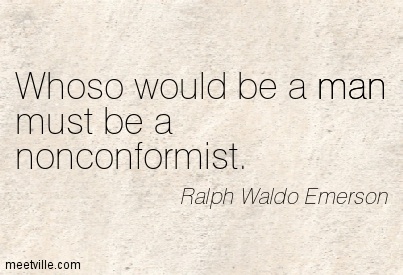 This is one of my favorite quotes and favorite philosophies, and I have tried to live my life by it.  To me it means that we cannot and should not be blind conformists and should follow our own path in the world.  The people in history who have been the movers and shakers of the world, and the people who have changed the world have been nonconformists.  They have been willing to think outside the box and shake up the status quo.  Perfect examples of this are Copernicus, Galileo, Louis Pasteur, Martin Luther, the Founding Fathers, Susan B. Anthony, Mother Theresa, Albert Einstein, Aung San Suu Kyi, Madam Curie, Amelia Earhart, both Franklin and Eleanor Roosevelt, Abraham Lincoln, Steve Jobs, Thomas Edison, Richard Branson, Dr. Martin Luther King, and Mahatma Gandhi among others.  My parents have also followed this idea in their own lives.
In our own lives, this quote should motivate us to shake things up in our own lives.  Don't be afraid to shake things up a bit.  Take some risks, make some goals, and reach for the stars.  You might just change your world! 
To Your Health!
Dr. Harvey