What It Takes to Be Number 1 – Vince Lombardi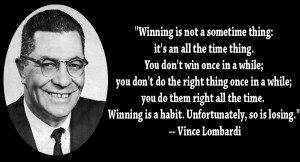 Vince Lombari, one of the greatest NFL coaches in history, made a very famous speech entitled "What It Takes to Be Number One".  The above quote is the beginning part of the speech and the whole text of the speech is listed in the video below.
This is one of my all-time favorite speeches, not only because of our family history (my brother still has the Green Bay Packer tickets that Dad owned), but it is applicable to all areas of life, both personal and professional.  In order to be the best you have to give it your all, and leave everything on the field.  It takes hard work and discipline to be the best.  And there is nothing like achieving your goal once you know that you have given it your all.
I have been fortunate enough to experience this in both my personal and professional lives.  May you all take this speech to heart and use it to achieve your goals!
 To Your Health!
Dr. Harvey