I Love It When a Plan Comes Together! Col. Hannibal Smith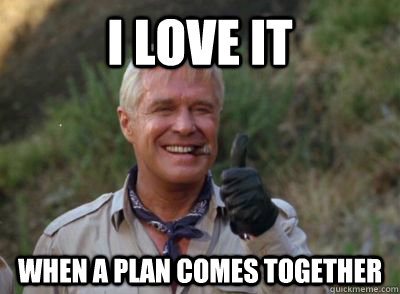 I know this is a quote from a fictional character, but it is still one of my favorites.  It actually brings up a very valid point – I find it very satisfying when a desired result comes to fruition due to my efforts and due to my planning.  When the work pays off and you have reached the goal, you can be proud of your efforts, regardless of what discipline you are in or what goal you are trying to reach.  When I was in high school, one of my big goals was making the All State Jazz Band.  I found out what the requirements were, and I made my action plan to reach that goal.  When I achieved it both my junior and senior years, they were one of the highlights of my high school and musical career.  When I was in graduate school, on Friday's I would plan my experiments for the following week.  I would analyze the experimental protocol to see if there were any potential bottlenecks with a chance for error.  I would also troubleshoot the results and anticipate what I may get data-wise so I could organize and plan the experiment better.  This allowed me to be more efficient with my time and kept me from moving in circles.
Proper results require proper planning.  It doesn't matter if you are talking about personal or professional goals – having a proper plan will help you to achieve them.  Sometimes it may require getting some needed advice to make the plan.  When it comes to your health and wellness goals, I can help you to plan and reach them if you need the help.  Please contact me if you need to.  I want us both to be celebrating with Col. Smith when you reach your goals!
To Your Health!
Dr. Harvey