Heart Health Tips Part 2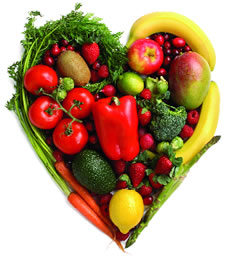 In  my previous post, I discussed the effects of exercise and smoking cessation on improving heart health.  In this post, I will continue the discussion of how to improve your heart health by focusing on diet and supplements.  This post is meant as an overview, but I will discuss the topics in more detail in future posts.  As I asked previously, what better Valentine gift is there to give to your family than taking steps to keeping your heart healthy?
Diet – There are several ways to specifically improve heart health through modifications in our diets.  Eating the required daily amounts of at least 5 servings of fruits and vegetables, getting between 25-40 grams of fiber daily, eating healthy fats and avoiding trans fats and hydrogenated oils, and avoiding fast food and fried foods.  (For more information on the dangers of trans fats, please see my previous blog entries here and here.)  Eating foods with rich dark colors will give you both the plant sterol benefits (see below) and the antioxidant benefits for heart protection.  It also goes without saying that keeping your weight at a healthy level is essential here as well.
Supplements – There are several supplements available that you can take to help improve heart health.  Omega 3 fish oils help to ensure that you are getting proper levels of the essential fatty acids EPA and DHA, and they can help to maintain normal cholesterol levels, and reduce triglyceride levels.  Plant sterols and niacin can help to reduce LDL levels as well. A good Vitamin B Complex containing Niacin, B6, B12, and Folic Acid help to reduce LDL levels and also help to reduce homocysteine levels (homocysteine is a heart health marker as elevated levels increase your risk for heart disease.  It is the glue that the plaque bind to before it binds to your blood vessel.)  CoEnzyme Q10 is also necessary, especially if someone is taking a statin drug as it will help to reduce the negative effects of that drug.
Heart health is a topic that needs to be dealt with on a daily basis, not just during Heart Health Month.  In future posts, I will discuss these and other topics in more detail.  Happy Heart Health Month everyone!
To Your Health!
Dr. Harvey