Isotonic Capable Supplements
Do you hate taking vitamin pills?
Do you wonder if they are doing you any good?
Would you prefer a better way to get the nutrition you need?
I can help you with this through a unique delivery method:
Isotonic Capable Nutritional Supplements
Unique Nutrient Delivery System
Isotonic Capable Nutritional Supplements offer a highly superior method for delivering vital nutrients into the bloodstream for maximum absorption.
Ideal nutritional supplementation for:
Bariatric patients
Elderly who need nutrients but can't digest pills
Patients with compromised digestion
Patients who hate to take pills
Elite Athletes seeking maximum performance
Anyone who wants to feel immediate benefits from nutritional supplementation
Isotonic Capable Nutraceuticals are used by top Olympic athletes
How does the Isotonic Capable delivery system work?
Micronutrients (vitamins and minerals) are most commonly consumed in tablet or capsule form. These solid forms must be broken down in the stomach and the active ingredients (micronutrients) must then dissolve in the gastric fluids in the stomach. When the active ingredients have dissolved, the body must adjust the concentration of the stomach contents to become an isotonic solution before the contents can proceed into the small intestine for absorption. Isotonic Capable supplements arrive at the small intestine in this isotonic state and are immediately released into the bloodstream with over 90% absorption rate in minutes.
Isotonic Capable products are not encapsulated or compacted into a "form". There is no need for fillers, binders, coatings, lubricants, disintegrators or artificial coloring. All ingredients in Isotonic Capable Nutritional Supplements are from the finest sources available and adhere to GMP standards.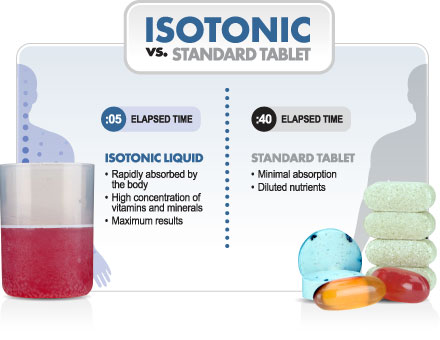 For information about this unique delivery method, and the available products, please click here.
For example, if you're needing
Sports Nutrition, or
Vision Health, please click on the above links.
We also have the ability to make a Custom Cocktail that is uniquely designed to meet your individual needs.  Please contact Dr. Kitzman for details on this.